Stallions
Kingston Park Warmblood Stud uses only the best stallions available, nationally and internationally, to put to our mares. These stallions are selected by researching pedigrees, performance, conformation and temperament. We pride ourselves on ensuring that the stallions selected and their progeny have been assessed by our professional peers, who have been able to conduct valuable research and visits to the various studs, to enable a full evaluation of the prospective stallion's attributes.
Learn more about: Heaven Dancer | Noble Monarch | Czar Australis | Foal by Amadea from Herzensdieb
---
Heaven Dancer
Trakehner Verband Licenced Stallion 2019
Owned by Suellen and John Saals
Heaven Dancer
Images courtesy of: Reckimedia reckionline.de
"Heaven Dancer" is a stunning young Stallion who has huge talent for Dressage. He is in Europe doing extremely well in Dressage as a young horse, and we have high hopes for his ongoing career.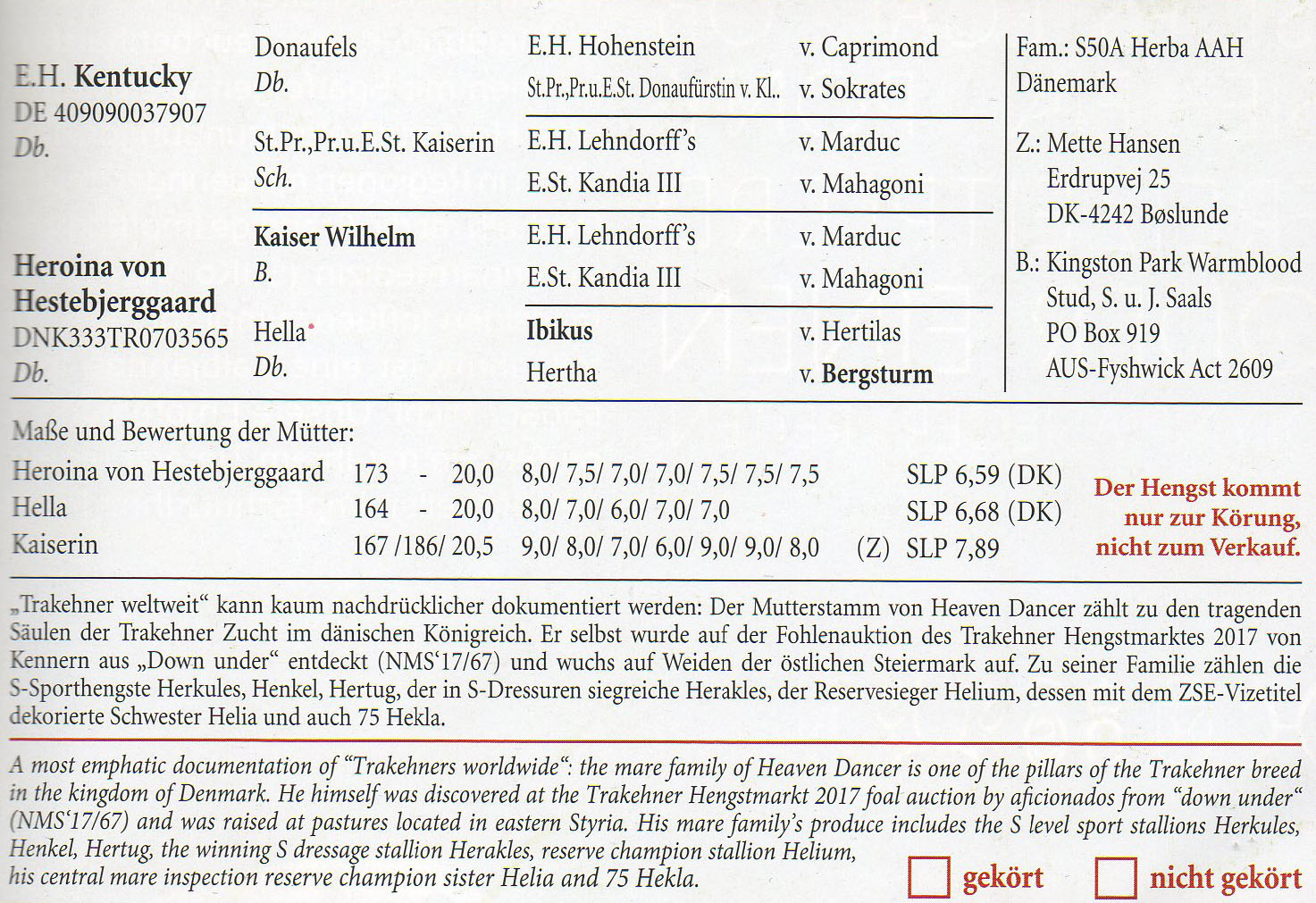 His pedigree is outstanding and follows the true pedigrees for Olympic Dressage brilliance.
FS available to Australia through IHB (International Horse Breeders).
"Heaven Dancer" has his own FB Page. Please follow our "Heaven Dancer" as his Dressage career develops in Europe and his Breeding successes.
---
Noble Monarch
Dam: AMADEA – AWHA Head Stud Book Trakehner Warmblood Mare. Was an exceptional mare with outstanding bloodlines from the best 'elite' European Trakehners, - her Sire 'Domhardt' winning the International Samsung Dressage Championships. Her pedigree boasts many International and Olympic Dressage and Three Day Eventing Champions.
Sire: VIVALDI – AWHA wid Trakehner Warmblood Stallion. Advanced level dressage and supreme show champion. He carried the famous Sandor and Traum Trakehner bloodlines which are so sought after in modern Trakehner breeding. Vivaldi was a Trakehner Warmblood stallion by Valuta – imported from Denmark. His bloodlines can be directly traced to the greatest Polish Trakehner studs of 'Liski' and 'Kadyny'. He is a direct decendant of the famous Trakehner stallion Traum born in 1939 in East Prussia. Vivaldi had exceptional conformation as well as extravagant movement – large, free flowing, lots of knee action with a clear moment of suspension.
Noble Monarch has it all: Looks, Temperament, Movement, Athleticism and Performance. Noble Monarch is a truly elegant stallion with the stamp of his pure Trakehner Breeding highlighted in his every performance. His pedigree is outstanding, from the oldest 'elite' Trakehner bloodlines in Europe. Noble Monarch was campaigned by Daniella Dierks (Grand Prix rider) successfully to FEI Inter1.
Noble Monarch won a Silver Medal for excellence in performance for 2010 and again won 2 Silver Medals in 2011, from the NSW Dressage Council. Noble Monarch had a very successful 2011, winning the 2011 "Elementary Horse of the Year" from the NSW Dressage Council. 2012 had Noble Monarch successfully competing at Advanced and Prix St George level Dressage while 2013 had seen him move to Official FEI Prix St George, Inter 1 & 2. Noble Monarch and Daniella won 3rd place at the State Dressage Championships of 2013 at Inter1 (only his 3rd comp at that level) and placing 7th at the National Dressage Championships of 2013.
Noble Monarch was training at Grand Prix in 2014, but under the 'EA Mandatory Hendra Vaccination 2014 By-Law' was forced to be injected with this vaccine to compete. Unfortunately he suffered a very severe Adverse Reaction to the first dose, and has not been able to continue his FEI career.
Noble Monarch has successfully competed and won at the Trakehners Australia National Tours of 2013, 2014, 2015, 2016, 2017, and 2018. He remains a beautiful horse, with lovely floating movements, a wonderful temperament which he throws to all his progeny.
Frozen Semen available. One free return - Conditions apply. SERVICE FEE $2000 incl GST.
---
Czar Australis
Aged 2 years. Amadea's 1st foal. Sold to Japan at Grand Prix Level Dressage. Czar's sire was the famous Zwion from the Matador line.
---
Herzensdieb
We have a foal "Arabesque" by Amadea from Herzensdieb (image courtesy Elite Frozen Foals, used with permission).
---
Links: